Looking at every Chelsea transfer of the Roman Era
2003-04
Glen Johnson (Age at start of season: 18, Club signed from: West Ham, Fee: £6.3m)
The first signing of the Abramovich era. Johnson threatened to blossom into a good defender but always looked better going forward than at the back. Sent on loan to Portsmouth, before being sold there. Chelsea recouped most of their outlay.
Alexei Smertin (28, Bordeaux £3.5m)
Signed as a squad player and in his handful of appearances proved to be no more than that.
Geremi (24, Real Madrid £7m)
Although never a headline-hitter, Geremi was versatile and proved to be useful down the right-flank. Mourinho rotated him but also hailed him for his efforts.
Juan Sebastian Veron (28, Manchester United £15m)
A magnificent player, but he rarely showed it in England. Claudio Ranieri thought he could salvage something from the wreckage of Manchester United's £24m signing, but he was wrong.
Damien Duff (24, Blackburn £17m)
Pricey, but worth it. Watching Duff at his peak was a joy – the winger was fast, direct and everything that the Blues could have hoped for.
Wayne Bridge (22, Southampton £7m)
During his first years at Stamford Bridge he was excellent, but fell behind Ashley Cole in the pecking order.
Adrian Mutu (24, Parma £15.8m)
The striker began in fine fettle but his form dropped away and he was sacked after being found guilty of taking cocaine.
Joe Cole (21, West Ham £6.6m)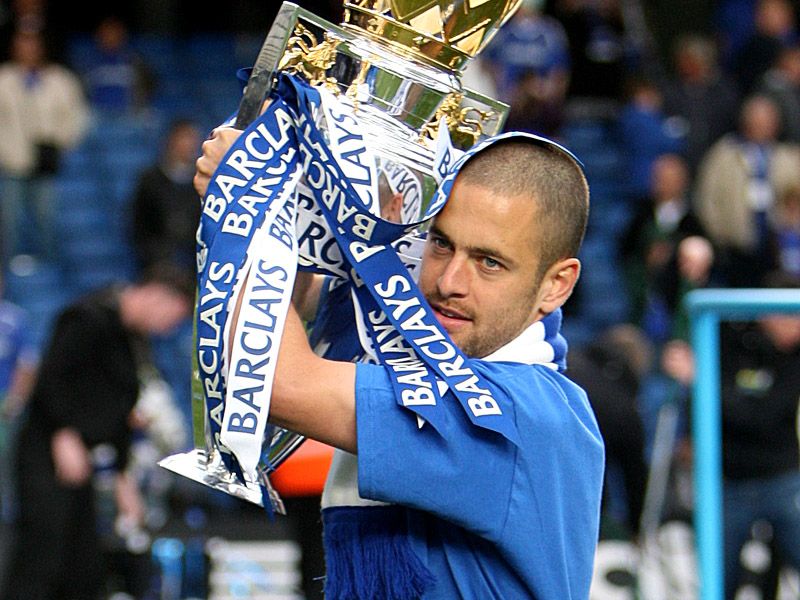 Although he never quite became the world class player he could have been, Chelsea got more than they paid for with the attacking midfielder. Mourinho gave him the work ethic to go with his raw skill.
Hernan Crespo (28, Inter Milan £16.8m)
When he actually played for Chelsea he was quality – absolutely lethal, a true predator. Sadly he could not make himself at home and moved back on loan to Italy.
Claude Makelele (30, Real Madrid £16m)
Makelele's impact in defensive midfield has been widely hailed as one of the key tenets of Chelsea's progress since Abramovich's arrival. Brilliant.
Neil Sullivan (33, Tottenham, free)
Goalkeeper signed as a back-up. Played a handful of times.
Marco Ambrosio (30, Chievo, free)
Another back-up stopper. Although he rarely played, did enjoy a spell in the first-team with Carlo Cudicini injured.
Jurgen Macho (25, Sunderland free)
Yes, another back-up goalkeeper. Never played for Chelsea.
Scott Parker (22, Charlton £10m)
The talented midfielder rarely was handed an opportunity to make his mark and when he did feature it was not often in his favoured position. Soon let go.
2004-05
Mateja Kezman (25, PSV Eindhoven £5.5m)
Came to England with an enviable goal record in the Eredivisie, but proved a total flop.
Alex (22, Santos £5.7m)
Although he did not play for Chelsea for several season due to work permit issues, the Brazilian centre-back proved a big hit before he was unceremoniously dumped by Andre Villas-Boas.
Tiago (23, Benfica £10m)
Scored a belter against Manchester United as he helped Chelsea to the title but was replaced the next season by Michael Essien.
Petr Cech (22, Rennes £9m)
Bought by Ranieri but only arrived in Mourinho's first year at the club. Was an instant hit and has proven himself a Premier League legend.
Arjen Robben (20, PSV Eindhoven £12m)
Mercurial and terrifying, Robben shredded defences before being hit by injury problems. In the years after he left, Chelsea have been crying out for someone who plays in the same vein.
Paulo Ferreira (25, Porto, £13.2m)
A safe pair of hands at the back, Ferreira impressed for a few seasons before being phased out. Remained at the club and performed well whenever called upon. Finally left this summer.
Didier Drogba (26, Marseille £24m)
Possibly the greatest signing of the Abramovich era. For nearly a decade, Drogba was the face of the club. His final touch of the ball in a Chelsea shirt brought Abramovich the Champions League success he so craved.
Ricardo Carvalho (26, Porto, £19.8m)
The perfect complement to John Terry in the heart of Chelsea's defence. Sly, conniving and downright dirty at times, but it was just helped consolidate his brilliance.
Jiri Jarosik (26, CSKA Moscow £3m)
Not very expensive, but also not very good. Admittedly played enough times to win a Premier League winner's medal.
2005-06
Asier del Horno (24, Athletico Bilbao £8m)
Most notable for being sent off after fouling (an extremely young) Lionel Messi, Del Horno did not really settle in England.
Shaun Wright-Phillips (23, Manchester City £24m)
Erratic. Bar a couple of spectacular goals, Wright-Phillips lost the spark he had at Man City and was dispatched back there in 2008.
Lassana Diarra (20, Le Havre £2m)
A good prospect, but impatient. He wanted a starting midfield berth and soon left for pastures new.
Michael Essien (22, Lyon £24.4m)
For a period he was one of the greatest midfielders in the Premier League but has been ravaged by knee problems. His decline has been saddening.
Maniche (27, Dinamo Moscow, loan)
Mediocre midfielder, rarely played. Sent off on his home debut.
2006-07
Henrique Hilario (30, Nacional, free)
Reserve goalkeeper who, whenever called upon, has been perfectly average.
Michael Ballack (29, Bayern Munich, free)
Although not as dynamic as he was in Germany, Ballack added steel, knowledge and class to Chelsea's midfield unit.
Salomon Kalou (20, Feyenoord £3m)
Scored countless crucial goals, but never became the brilliant forward many reckoned he might. Frustrated fans with his erratic finishing and crossing.
Andriy Shevchenko (29, AC Milan £30m)
The price-tag and his history at AC Milan meant we were expecting big things and got little in return. It was not for a lack of application – Shevchenko ran himself into the ground. But physically he was broken and it took its toll on his goal tally.
John Mikel Obi (19, FK Lyn £16m)
His transfer was a saga (Chelsea had to pay Manchester United £12m of the fee because he seemed to have signed for them before changing his mind) and since arriving Mikel has split opinion among supporters. Plunged into the first team by Mourinho at 19, he has performed well in big games time and time again.
Khalid Boulahrouz (23, Hamburg £9m)
Bizarrely, for a defender, took the No 9 shirt and mostly played like he was out-of-position too.
Ashley Cole (25, Arsenal £5m + William Gallas)
To sign the man who became the world's best left back for £5m and a want-away William Gallas was a magnificent piece of business.
2007-08
Steve Sidwell (24, Reading, free)
Turned from Reading's star man into a hapless no-hoper. Has since resurrected his career but never fulfilled on his promise.
Tal Ben Haim (25, Bolton, free)
The Sidwell of the defence. Ben Haim's greatest achievement in a Chelsea shirt was to be skinned by Fernando Torres, which impressed Abramovich so much he went out and bought the Spaniard.
Claudio Pizarro (28, Bayern Munich, free)
Good both before and after his Stamford Bridge stay, but while at the club looked about as potent as a plastic spoon.
Florent Malouda (27, Lyon £13.5m)
His stay ended after a year of being marooned with the youth team, and there were periods where he was extremely poor. But for that 18 month spell in which he helped Chelsea win the double, he was unstoppable and played like a man worth three times his transfer value.
Juliano Belletti (31, Barcelona £3.7m)
Although past his best, Belletti delighted the fans by putting in the proverbial 110 per cent each and every game, as well as scoring some long-range screamers.
Nicolas Anelka (28, Bolton £15m)
Transformed from a speedy, line-leading poacher into a considered, crafty, technically exquisite forward. A delight to watch under Carlo Ancelotti. Proved doubters wrong by working well with Drogba.
Branislav Ivanovic (23, Lokomotiv Moscow £9m)
He came from nowhere and took the Premier League by storm. Able to play at both centre-back and right-back, Ivanovic gives his all to the cause and has few detractors.
Franco di Santo (18, Audax Italiano £2m)
In his few appearances for Chelsea and loan spell at Blackburn, seemed hopeless. Has since become a half-decent striker at Wigan.
2008-09
Deco (30, Barcelona £8m)
Signed by Scolari, the talented playmaker started off well. But the Brazilian manager was axed as Deco's and Chelsea's form fell away. Under Ancelotti he enjoyed a revival of sorts.
Jose Bosingwa (25, Porto £16.2m)
Reasonable going forward but erratic at the back, Bosingwa was Glen Johnson Mk II. Ended up a Champions League winner, in a campaign which saw him play out of his skin at centre-back against Barcelona. Has delighted Chelsea fans since leaving by moving to rivals QPR and behaving badly.
Mineiro (32, free)
A strange signing who only featured twice. One of those times was during a cringeworthy league cup defeat to Burnley – his only start.
Ricardo Quaresma (24, Inter Milan, loan)
The ultimate YouTube player – Quaresma had plenty of flicks and tricks but little substance. The winger did not play a great deal after signing and when he did, showed why Mourinho had sent him packing from Inter.
2009-10
Yuri Zhirkov (25, CSKA Moscow £18m)
Looked good at times under Ancelotti but couldn't settle in either a left-wing or left-back position. His versatility counted against him.
Ross Turnbull (24, Middlesbrough, free)
Made a few gaffes in his time and has just been released. Liked by Chelsea fans, albeit as a figure of fun.
Daniel Sturridge (19, Man City £3m)
Shone briefly under Andre Villas-Boas, but seemed too desperate to prove himself instead of working as part of the team. Doing well at Liverpool, but Chelsea will be pleased with the £12m they took for him.
Nemanja Matic (20, MFK Kosice £1.5m)
Never given a chance to play in the first team and sent to Benfica after Chelsea signed David Luiz from the Portuguese side. Since re-signed for a cool 21 million and has turned into a world class DM
2010-11
Yossi Benayoun (30, Liverpool £5.5m)
A disastrous signing – hardly played, spent time on loan at rivals Arsenal, became associated with disliked manager Rafael Benitez. Released on a free.
Ramires (23, Benfica £17m)
A midfield engine who has come on leaps and bounds after a shaky start. Still needs to work on his technique but offers something a little different.
David Luiz (23, Benfica £21.3m)
Another who has grown into himself at the club. The centre-back was mocked for his rash behaviour at the start but has been on a steep upward curve and now is a key man, who can also play in midfield.
Fernando Torres (26, Liverpool £50m)

Where to begin? He will have made back some of that fee in shirt sales and has been part of both domestic and European cup success, but, really, he's been a failure. Its been depressing to watch him most of the time while we remember what he did at Liverpool.
2011-12
Thibaut Courtois (19, Genk £7.9m)
Never played for Chelsea but has excelled in La Liga. One of the best goalkeepers in the world and although he will spend another year at Atletico Madrid on loan, expect to see him at Chelsea next year.
Oriol Romeu (19, Barcelona £4.4m)
Played well under Villas-Boas but suffered an injury and was not favoured by Roberto Di Matteo. Jury's still out – he looks classy some times, clunky at others.
Romelu Lukaku (18, Anderlecht £18m)
His best form has come on loan at West Bromwich Albion and Everton but the Belgian battering ram has a superb attitude and next year could be his breakthrough season at Chelsea.
Juan Mata (23, Valencia £23m)
Was Simply incredible. Mata was the heartbeat of Chelsea for 2 season and had been their most creative player, Didn't fit into Jose's formula and has been shipped out to Man United for 37 million
Raul Meireles (28, Liverpool £12m)
Frequently ineffective in midfield, but useful to have around to make up the numbers. Scored a screamer against Benfica in the Champions League and saved his best Chelsea game for the Barcelona semi-final second leg.
Gary Cahill (25, Bolton £7m)
A key man in the 2012 run-in and was massive in Munich, Cahill is now Jose's preferred partner for John Terry in defence, GREAT BUY.
Lucas Piazon (17, Sao Paulo £5m)
Spent time on loan at Malaga and now tearing it up at Vitesse.
Kevin de Bruyne (20, Genk £6.7m)
Excelled in Germany at Werder Bremen and big things were expected, however it didn't work out and has been sold to Wolfsburg for 17 million
2012-13
Marko Marin (23, Werder Bremen £7m)
Injured a lot, but when he did play didn't look up to much. Been packed off on loan to Sevilla.
Eden Hazard (21, Lille £32m)
Started well, his performances wavered briefly in the middle of last season, but finished the season in blistering form. This year under Jose has been OUTSTANDING, Could be anything.
Thorgan Hazard (19, Lens £800k)
Doing well on loan at Zulte Waregem and just been voted Belgiums's player of the year.
Oscar (20, Internacional £25m)
Thrilled Chelsea fans on his debut season with his technique, skill and long-range shooting. Jose wants him at NO.10 and he has a great start to the year.
Cesar Azpilicueta (22, Marseilles £7m)
Improved as the season went on and is everything Bosingwa could not be – Now filling in at LB too, really good purchase.
Victor Moses (21, Wigan £9m)
Found his feet in the Europa League but his performances still leave a little to be desired. The arrival of Schurrle has seen him sent to Liverpool on loan where is he struggling for game time.
Wallace (18, Fluminense £5m)
Young Brazilian right-back who will arrived in offseason and played well on tour, shipped off to Inter where it hasn't gone well.
Demba Ba (27, Newcastle £7m)
Was refreshing when he signed because of Torres's terrible form, but has also found it hard to make a mark at Chelsea.
2013-14
Andre Schurrle (22, Bayer Leverkusen £18m)
Has started ok, kept out of side by Hazard's blistering form, been good when called upon and scored a couple of goals.
Willian (25, Anzhi Mackhachkala £ 31 )
Stolen out from under Tottenham's noses the pacey winger started slowly but has really picked it up lately and is now Jose's preferred RW.
Samuel Eto'o (32, Anzhi Makhachkala, Free )
Signed as a stop gap when the Rooney deal fell through, not the player he once was.