Top 5 Academy prospects at Chelsea Football Club
Scott Sinclair, Gokhan Tore, Fabio Borini and Miroslav Stoch. What do all these players have in common, other than the fact that they have turned into a decent footballing stars? They were all part of the Chelsea Academy, once upon a time. Buying our way out has been a policy since the Russian oligarch took over, but when Ruud Kaiser was brought in by Jose Mourinho, the Dutch man revolutionized the way Chelsea's youth academy worked. Along with the appointment of Piet De Vissier as head scout, potential stars have walked up to the Cobham training ground. Piet De Vissier was responsible for bringing the Brazilian Ronaldo to Europe and he also was the one who advised Fernando Torres into convincing Mata to join Chelsea.
According to me, these are the top 5 academy prospects at Chelsea –
NOTE – Some players have been left out, as they have either made quite a few starts in the first team or were part of multi million money deals that brought them to this club. These players include Josh McEachran, Kevin De Bruyne, Thibaut Courtois, Lucas Piazon and Romelu Lukaku.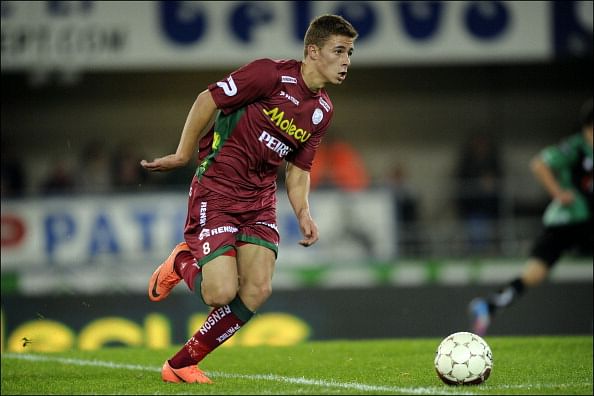 He moved for a fee of 1 million pounds from Lens, along with his brother who moved for quite a larger fee of 32 million pounds. Not much was known of him as he had nothing in his CV to boast off, other than the fact that his older brother, Eden, claimed that Thorgan was the better among the two.
He has two appearances for the Chelsea U-21 team, and the game against City drew gasps from all corners of the world. A number of clubs were interested in snapping him up on loan and Chelsea never looked reluctant in letting him go. He moved to Zulte-Waregem on a season long loan finally, after another appearance for the Chelsea U-21′s in their opening fixture of the NextGen series.
The young Belgian can play anywhere in midfield, but just like his brother, he is a natural left winger. His passing stands out as his strongest plus point. He definitely is much better than his brother at that after watching quite a few replays of him at his former club. Despite logging very few minutes for the first team, he is always the creative spark of his side. Moreover, his willingness to defend is much higher than the likes of Mata, De Bruyne, Oscar and Hazard have at the moment. A mixture of Moses' defending and Mata's sublime through balls could be envisioned for the future.
Thorgan, as of now, is one of the important players in Zulte, and his presence can help them push for the title. Another loan  at a higher-placed club is possible next year.
Tomas Kalas is a defender who is versatile enough to play as a center-back and as a right-back. He joined Chelsea in January 2011 before leaving to join Chelsea's affiliate club, Vitesse Arnhem, in the summer of 2011. He earlier was an integral part of Chelsea's youth and reserve teams. He made his reserve team debut against Aston Villa before moving to the Netherlands.
In the first season, the young Czechoslovakian impressed, as he became the first name on the team-list. His second season found him at right-back as both clubs agreed that he needed another season to aid his development.  His speed, stamina and strength on the right showcase him as a typical English defender that lives on bacon and eggs.
With fellow Chelsea team-mate Patrick van Aanholt joining him as a left-back, both of them have marauded down the flanks to attack for Vitesse. Tomas even has a senior team cap for his country in his name, with Petr Cech proudly showing him around.
Rumours are arising that he won't be at Vitesse at the end of this season, and could be on the loan list of quite a few Bundesliga teams. A move might definitely be on the cards, as Chelsea are only concerned about his development. A time will come though when he turns out to be quite a gem, and Chelsea will be lucky to have got their hands on him, as at the moment, he is destroying the Eredivisie at the tender age of 19.
This is what Piet De Vissier had to say about Kalas – "Kalas played last season as a central defender and already enormous progress has been made. At right-back, he is doing that again. His attitude, concentration and drive are pluses. He's a winner who will bend over backwards to do the maximum possible."
Chelsea were under heavy criticism after poaching the young defender from the infamous Feyenoord Academy. After a few stints as a left-back and in the midfield for the Chelsea U-18′s and U-21′s, the young Dutchman finally found his place in the center of defense.
Nathan isn't the most physical player on the pitch but is dominating in the air and very comfortable on the ball. He also loves to attack when on the flanks or in midfield. At the age of 17, he hasn't seen any kind of loan moves that have taken him away from Chelsea. He was recently awarded his first senior cap, as he came on for Juan Mata against Norwich in the 90th minute. A loan move is very much plausible as Chelsea want him to mature and gather as much as experience he possibly can. Rumours are rife that he could also join Arnhem Vitesse with a few other Chelsea players.
The Dutch contingent at Chelsea is strong, but Nathan can be highlighted as one of the most exciting prospects from them.  Nathan has also represented and captained Netherlands at the U17 level. He successfully helped Netherlands in defending the European Championship in 2012 after a victorious campaign in 2011. He currently captains the U-19 team.
Piet De Visser chased Lucas Piazon from the tender age of 15 before finally helping Chelsea land him. It looked like Nathan Ake was about to move to City but Frank Arnesen, another head scout at Chelsea, intervened at the correct time, to convince Feyenoord.
After a ravaged childhood, which included running away from war-torn Somalia and seeking asylum in the United Kingdom, he was discovered by the Celtic youth coach, John Simpson. His debut came at the age of 14 in Tommy Burns' memorial match. Despite Manchester City trying their best to lure him to the club in 2012, the young Scottish international joined Chelsea in the 2011-2012 season. This incident left Neil Lennon furious, as he had lost a gem of a player that was saved from the clutches of deportation by the club. The agents were blamed for mishandling him, and Chelsea were in the spotlight once again, for "stealing" young talents.
Islam scored on his debut for the Chelsea U-18′s against Portsmouth. He went on to win a cap in the reserves and netted 6 goals for the youth team. 2 of those came against Manchester United in the FA Youth Cup final first leg. Chelsea won the cup for the 2nd time in 3 years. He also scored twice for the reserves against Norwich, which propelled him to further stardom as it hit the back-pages of major newspapers.
He scored twice against Molde FK in the NextGen series, as Chelsea thrashed them 6-0. The two goals reminded one of a vintage Didier Drogba, and the young man is definitely capable of replacing him one day.
A loan move has never come into question, as the Chelsea reserves and youth team survive on him. With the inclusion of Lucas Piazon in the first team, reserve team coach, Adi Viveash, has very few capable players to step up when it matters and deliver with quality. One that stands out is Islam Feruz.
Nevertheless, a loan move to another league will do him good. Chelsea have always had levels on loan move for a young player. First level involves them going to leagues around the world, and the final being to a team in the English Premier League. If Roberto Di Matteo once upon a time considered  Feruz good enough to replace Torres in the starting lineup, then his quality and talent at this young age can definitely improve any side.
Nathaniel Chalobah captained the youth team to a successful FA Cup campaign last season, and this year finds himself at Watford, under the mentor-ship of Chelsea legend, Gianfranco Zola. He had no previous senior caps and this was his first loan move. 6 months was later changed till the end of season, this January.
He has so far scored 2 goals and has 17 appearances to his name. With Chelsea and England, he has always played in the center of defense, but with the quality at the back increasing for his club, he was moved into midfield. He is very athletic and aggressive in attack. His strongest plus point remains his composure on the ball and ability to make decisions on and off the ball. He has turned into a box to box midfielder for Watford under Zola's instructions and has a heavy presence in each of their attacks.
In my opinion, he has been one of the best academy products, with Ryan Bertrand and Josh McEachran in a close second. Chelsea might just take a risk and send Chalobah to a Premier League team next year. Logging minutes in the top-flight will certainly help him out and Chelsea could just about have another John Terry on their hands. Academy players speak highly of him, and he is supposed to be very inspirational in the dressing room.
Gianfranco Zola recently praised the young Englishman and believed that he was the next big "thing" –
"He is a player that if he maintains the right attitude and keeps working and focussing on learning then he could really become an important player. He has all the qualities to become a top player but he just needs to work hard every day and not lose the desire to work hard in training. The common mistake for players of his age, when they play and are having compliments like I am giving him right now, is to stop learning. It is too early; he has the potential but he has to really keep his feet on the ground and work hard."