What the Next Season Holds for Chelsea FC (7 Competitions): PREVIEW
Chelsea FC had a pretty weird season in 2011-2012. We have discussed and rewied it enough times, so lets look at what the next season holds for us.We will be competing in 7 tournaments next season. So lets take it one-by-one and predict how far we'll go in each of them.

Premier League
We finsihed 6th in the EPL last season, our worst finish since Roman took over, and trust me, he wasn't pleased about it.
As a top top Club, we are expected to Challenge for the title EVERY season, transiton or no transition.
Coming to the new season, the squad looks pretty good and settled. Not to mention the sky-high confidence running in the club following our Epic UCL win. We got the best goalie in Petr 'Batman' Cech. Our defence needs no intro. Terry, CAhill, Luiz, Ivanovic, Cole, Bertand are all good to go.
Plus we'll be getting a new defender too, so Defence will be strong. Midfield suddenly looks fearsome. From no creativity last season, to bursting with creativity this season. Juan Mata, Ramires, Lampard, KDB, Marko Marin, Hazard, Mikel, Romeu makes up a  pretty creative, harworking unit.
The Forward line is a bit shaky as of now. Nando, Lukaku, Sturridge doesn't make up a very convincing unit. Ofcourse, if Nando starts firing, then it's a different matter altoghether. Sturridge is eccentric. Lukaku is talented. A few more games ought to help him.
If Hulk/Ben Arfa/Joevtic enter the frame, it would look much better. However, I remember our CEO Gourlay saying " We'll have 2-3 stikers hitting 30 goals next season."
Which means Nando and another big name striker. My guess would be Falcao, though I would prefer a Mario Gomez more.
Looking at everything, and considering the time needed for the new squad to settle and being realistic ..
EPL FINISH – 2nd position.
FA CUP
A no-brainer really. We sort of own the FA Cup tournaments. With a squad this strong I easily expect us to win the tournament.
FA CUP FINISH – Champions.
UEFA SUPERCUP
We'll be playing this one against Ath. Madrid, where our next Petr Cech plays. But he won't play against us. Falcao might be a problem.
That is if he doesn't end up in a Chelsea shirt by then. Expect Ath. Madrid to put up a fight, but we'll be too strong for them.
UEFA SUPERCUP FINISH – Champions.
CARLING CUP
The cup taken seriously the least by top teams (unless you happen to be Liverpool trying to salvage your season), I don't expect us to win it this time either.
I expect youngsters to take part heavily in it. Look out for Lukaku, Marin, Bertand and Piazon in this tournament. We'll do well but won't win it.
CARLING CUP FINISH – Semifinals.
FIFA WORLD CLUB CUP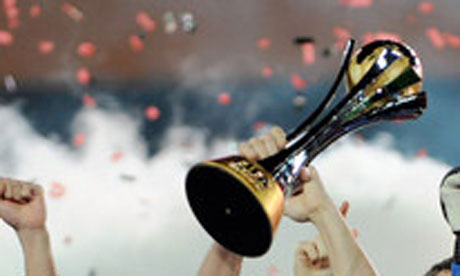 Expect us to win it. Opposition in this tournament just isn't good enough to trouble a squad like ours. Heck, I hardly know a few club names who participate in it.
WORLD CLUB CUP FINISH – Champions.
COMMUNTIY SHIELD
We will be playing against Man City, If I am not wrong. THough their squad is good, our squad's better (I might be being partial).
Should be a cracker of a match. Expect the Goalkeepers to play a vital role in it. A lot will depend on Mata and Hazard to provide ammunition for Nando.
David Silva and Aguero are well-known thorns in our side. That being said, I expect Cech to play exceptionally well.
COMMUNITY SHEILD FINISH – Winners.
UEFA CHAMPIONS LEAGUE
The Grandest prize of them all. My fellow Blues, If last season was considered the best, your are in for a excellent treat this time round.
Hell with Barcelona and Madrid, our talent + will to succeed is greater than any of the Messi's and Ronaldo's.
I FULLY expect our now UCL Oldie Champs to combine with hungry new mesmering talent to go all the way. To be honest, Our squad is the most BALANCED squad in the UCL next season.
With Mata getting better, Hazard providing a new dimension .. expect Torres to fire. And if he DOES fire, say Bye-Bye to the so-called powerhouses of Spain.
Mark my words. Next season, you'll see the following headline :
     "CHELSEA CREATE HISTORY BY BECOMING THE FIRST CLUB EVER TO DEFEND THE UCL TITLE"
And then, RDM will get a life-time job at Chelsea and Roman will forget about Pep Gaurdiola.
UCL FINISH – Champ
ions.
So, as you can see, I clearly think, that next season will be the best ever season in our history. And we'll create history.
Because we write our own destiny. The UCL triumph last season was the end for a long time pursued dream for Chelsea.
But as we all know.. THE END IS JUST THE BEGINNING.
#KTBFFH
Pen Name: RR2
Tweet
!function(d,s,id){var js,fjs=d.getElementsByTagName(s)[0];if(!d.getElementById(id)){js=d.createElement(s);js.id=id;js.src="//platform.twitter.com/widgets.js";fjs.parentNode.insertBefore(js,fjs);}}(document,"script","twitter-wjs");
Follow @CFC360Official
!function(d,s,id){var js,fjs=d.getElementsByTagName(s)[0];if(!d.getElementById(id)){js=d.createElement(s);js.id=id;js.src="//platform.twitter.com/widgets.js";fjs.parentNode.insertBefore(js,fjs);}}(document,"script","twitter-wjs");
(function(d){ var js, id = 'facebook-jssdk'; if (d.getElementById(id)) {return;} js = d.createElement('script'); js.id = id; js.async = true; js.src = "//connect.facebook.net/en_US/all.js#xfbml=1"; d.getElementsByTagName('head')[0].appendChild(js); }(document));